You can access the detailed location data by clicking on the location code (the area circled with red) of a certain book at its availability information.

Make sure your are looking for the location of a book that is actually present and available. If all the copies of the book are currently on loan there is a red cross on the left side of the search results instead of a green icon.

Once you click the location code there appears the Library Map view on the screen that provides the detailed location data. There are a few collections lacking proper location data but for them the contact information is provided instead via which you can enquire the availability.
Usually you can see on the left side of the Library Map in which serviced point and in which collection the book is located and above all at which letter the book is alphabetized in the field main word.

On the right side you see the floor map with the shelves are marked with red where the book should be found.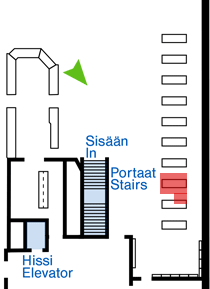 If you can't find the book your looking for with the help of these instructions, please contact the customer service and we'll help you.