NB! University's facilities, including Harald Herlin Learning Centre, are not available for students from 17 March to 13 April.   
Aalto University students and staff members who have valid Aalto IT credentials can use the premises of Harald Herlin Learning Centre outside customer service hours by activating their access to HSL travel card.
You can do the activation by connecting your Aalto IT credentials to your card at this website: http://idcard.aalto.fi/
Please also carry your Aalto University student of staff member card with you. The guards patrolling the premises may want to see it, and it is their duty to evict everyone who cannot officially prove to be a student or a staff member of the university.
Route
Outside customer service hours you have to access the premises via the entrance facing Otaniementie (marked with red). The card reader is on the right side of the door.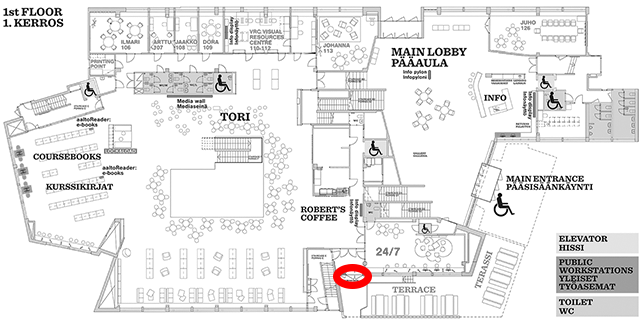 Which facilities can I access?
Whem the customer service is closed you may use: